Fr. James Martin has written a book "Seven Last Words" which follow the bible has told us Jesus Seven Last Words Cross he spoken to us. Here are the 7 words I want to share with you:
"Father, forgive them, for they do not know what they do."
"Today you will be with me in Paradise."
"Woman, this is your son" … "This is your mother."
"My God, my God, why have you forsaken me."
"I thirst."
"It is finished."
"Father, into your hands I commend my spirit."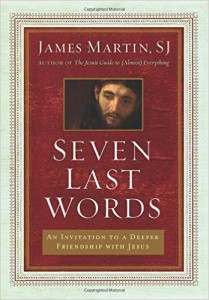 He wish all of us can learn from Jesus teaching and connect with Jesus always when we encounter difficulties in my life. Turn to Jesus when we have doubt and seek Jesus guidance in our life journey. I got to know about Fr. James Martin through Facebook Page of Catholic Church, talking about how actor Andrew Garfield "truly started to adore" Christ's teachings during his preparation for the "Silent" filming. Fr. James Martin served as an advisor to this film and I wanted to know who is this Catholic Priest. By google on the internet, I get to know Fr. James Martin.
You may purchase this book from Amazon store with hardcover cost about US$12. I checked local library here but not able to find any yet.